DFNN subsidiary Inter-active Entertainment Solutions Technologies, Inc. (IEST, Inc.), held its year-end Partners' Meeting and Annual Christmas Party at Vu's Sky Lounge in Marco Polo Ortigas on November 28.
IEST, Inc.'s business partners during the year-end meeting and Christmas Party
Mr. Calvin Lim, DFNN Group Chief Executive Officer, welcomed IEST's business partners and guests from different parts of the country. Mr. Ricardo T. Banaag, DFNN Group Chief Technology Officer presented his updates on IEST's operations particularly on its gaming platform, highlighted by his announcement of the opening of its Clark office. Raffle winners for the Third Quarter 2019 Partner's Satisfaction Survey were announced as well, with the two (2) lucky winners each receiving a smartphone.
Representing DFNN's gaming affiliate KGI, Mr. Eric Salido reported about the on-going promotions of its platform. Finally, Mr. Claude Henoud, Country Manager of Realtime Gaming (RTG), unveiled a trailer highlighting an exciting addition to its wide array of games, the T-Rex II.
Marking the end of the meeting was the awarding ceremony headed by Mr. Mark E. de Ungria, DFNN Group's Head of Casino Operations. The top ten sites from Luzon, Visayas and Mindanao were recognized, with each site receiving a plaque for its exemplary performance for the past quarter.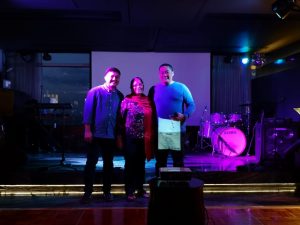 DFNN's Head of Casino Operations, Mr. Mark de Ungria, together with a business partner awardee from Visayas – Mindanao
The Annual Christmas Party followed the meeting, with the official theme "Flashback: A 90s Party". All guests came in wearing their most striking 90s-inspired outfits. A live band was played tunes from the 90s era – fully complementing the overall ambience of the night. A multitude of prizes were also given away to IEST's business partners during the party.
Concluding the celebration was Mr. Ramon C. Garcia Jr., DFNN Group's Executive Vice Chairman who expressed his gratitude to all the guests who took time to attend the year-end party. He also announced exciting news to IEST's business partners – his announcement of next year's venue for the First Quarter Partners' Meeting to be held outside the Philippines.