Creating Shared Value through ESG Integration
Recognizing the business imperative of contributing to the global effort to minimize the negative impact of environmental degradation, the company strives to integrate sustainable business development principles as well as global best practices in its value chain. Hence, this framework is aimed to establish and institutionalize the five (5) goals it identified, to wit:
Plan, manage, evaluate business processes in order to maintain or improve on our identified environmental, social and governance (ESG) risks;
Develop strategy and programs based on the triple bottom-line (Profit, People, Planet) thus contributing to help manage our environmental and social impact in collaboration with employees and stakeholders;
Mentor and holistically develop future leaders serving as role models in exemplifying the company's core values of MALASAKIT, INTEGRITY, TEAMWORK, and CUSTOMER-DRIVEN;
Help drive the company's continued growth through collaboration to achieve professional and personal growth; and
Advocate for a sustainable lifestyle by involving employees and stakeholders.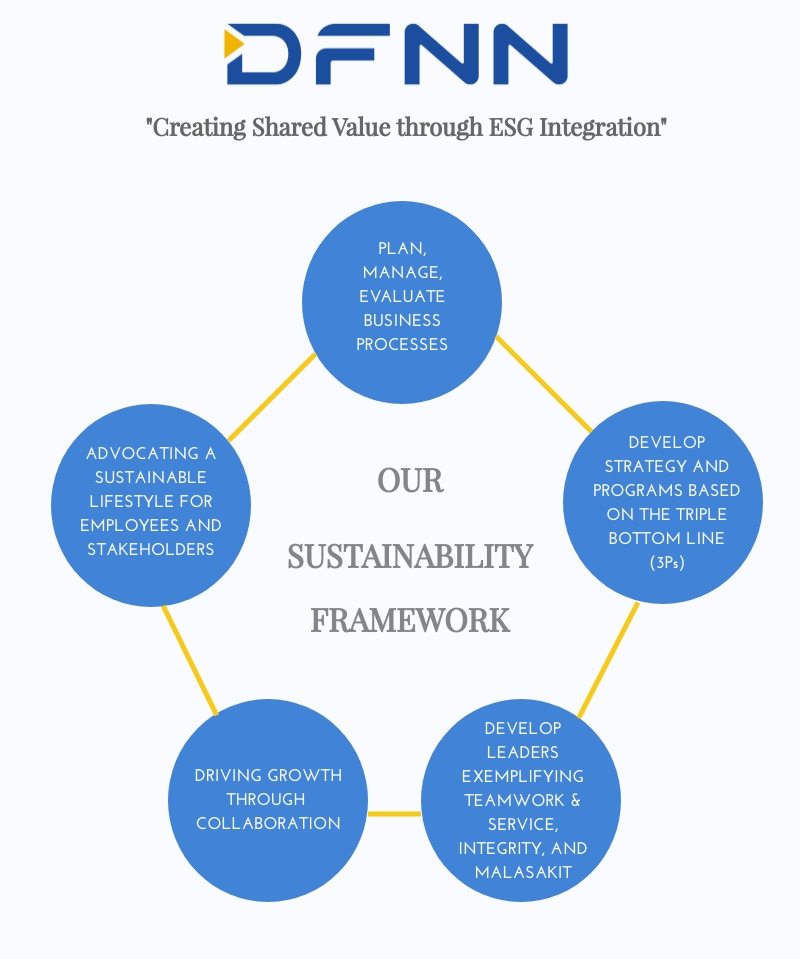 Members of the Management Committee have oversight on the overall strategic direction and implementation of programs.
DFNN Sustainability Team
President and Chief Executive Officer – Ricardo F. Banaag
Chief Finance & Investment Officer – Elisaire T. Lacson
Chief Legal and Compliance Officer – Atty. Cyrus R. Montesa
Investor Relations Officer – Abigail A. Garcia
HRAD Manager – Patrick R. Palma