DFNN, INC.
2020 ANNUAL STOCKHOLDERS' MEETING
July 30, 2020 at 9:00 a.m.
Guidelines for Participating via Remote Communication and Voting In Absentia
The 2020 Annual Stockholders' Meeting (ASM) of DFNN, Inc. (DFNN or the Company) will be held on July 30, 2020, Thursday, at 9:00 a.m. Stockholders of record as of June 15, 2020 are entitled to notice of, to attend and, to participate in and vote at the ASM or any adjournment thereof.
In light of the continued threat of the COVID-19 pandemic and in consideration of the health risks and safety concerns of everyone involved, DFNN will not be conducting a physical ASM. Stockholders may attend, vote at, and participate in, the ASM via proxy and remote communication or in absentia.
Pursuant to Sections 23 and 57 of the Revised Corporation Code and SEC Memorandum Circular No. 6-2020, which allow voting in absentia, the Company has set up the following procedure for stockholder registration, participation via remote communication and voting in absentia on the ASM agenda items.
Stockholders who vote in absentia or who participate via remote communication shall be deemed present for purposes of quorum.
(1) Pre-ASM Registration and Validation Procedures
Stockholders who choose to participate in the ASM via remote communication and cast their votes in absentia must notify the Corporate Secretary no later than July 20, 2020 by submitting the complete supporting documents with transmittal letter to the Company with address at L2-L5, 14th Floor, Philippine Stock Exchange Tower, 5th Avenue corner 28th Street, Bonifacio Global City, 1634 Taguig City via COURIER/PERSONAL DELIVERY OR by sending scanned copies of the foregoing via EMAIL to DFNN2020ASM@dfnn.com.
Scanned copies of the documents submitted as attachments via email must be in clear copies in JPG or PDF format, with each file size not exceeding 2MB.
The Company, via-email reply within three (3) business days from receipt of the documents, will either confirm successful registration and provide the link and meeting details to the Company's 2020 ASM OR require resubmission in case of deficient documents. Should you not receive an e-mail reply within three (3) business days from receipt of your submission, please call +63-956-864-7543.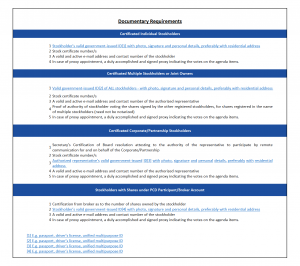 (2) Online Voting
Stockholders who have successfully registered will be duly notified via email by the Company. Registered stockholders may then cast their votes for the agenda items by accomplishing the print-out of DFNN's ballot form. The ballot form can be accessed and downloaded from DFNN's website at www.dfnn.com/2020ASM.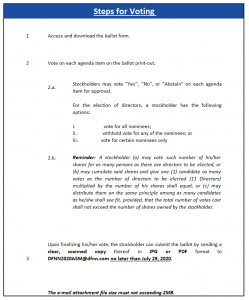 (3) ASM Proper
Stockholders who have successfully registered can participate via remote means of communication by accessing the link and meeting details provided by the Company. Instructions on how to join the meeting will also be provided to registered stockholders in the confirmation of registration via e-mail reply from DFNN2020ASM@dfnn.com.
The meeting proceedings shall be recorded and adequately maintained by the Company in video and/or audio format, and will be made available to participating stockholders upon request. Stockholders may access the recording of the ASM by sending an e-mail request to DFNN2020ASM@dfnn.com
Questions and Comments
Stockholders may send their questions and/or comments in advance by sending an email with the subject head "DFNN 2020 ASM" to DFNN2020ASM@dfnn.com not later than 9:00 a.m. of July 30, 2020. Stockholders may also course their questions and/or comments during the ASM through the remote platform.
Matters or issues raised and received but not entertained during the ASM due to time constraints will be addressed separately by DFNN through the stockholders' email address.
For any clarifications on the foregoing procedures, or for any other ASM-related queries, please contact the Company at DFNN2020ASM@dfnn.com.